Get Your Ecommerce Website Developed by Experts!
Simply put, e-commerce is buying and selling of products and services over internet. An e-commerce website makes this task happen with ease of offering all the products at one stop, at the click of button. Businesses can have the advantages of e-commerce by going online with full-fledged, efficient e-commerce website. Digitera Technologies helps you in developing complete B2B and B2C e-commerce portals which are mobile or m-commerce ready online retail stores with all the required key components like Product information, Catalog, Product search, Shopping cart, User details/ Profile management, Order management, Secure payment, Guarantee/ Warranty management and Security.
Following are the key factors in deciding the quality of e-commerce portal:
User Experience ( UX ): The ultimate test for any site is how well it attracts users and retains them by providing the best User Experience. Store Design.
Search Engine Optimization: All the pages have to be search engine optimized if you want your site to be visible in search engines at a higher places.
Secure Payment Gateways: Integration of correct payment gateway which will accept real-time credit card processing instantly and securely.
Content Management System : Easy to use website publishing system.
Tax Rates & Settings : Full set up for Tax Compliance and support various geographic tax zones.
Hosting and Security : With enterprise-grade network architecture and hacker-deterrent security provisioning.
Mobile Commerce: The portal should be mobile/tablet optimized with full features.
Analytics: Analytic tools to provide insights about performance reports, daily conversion rate, bestselling products etc.
Marketing & Promotions: Fully integrated Social Media marketing, e-mail marketing and other marketing tools.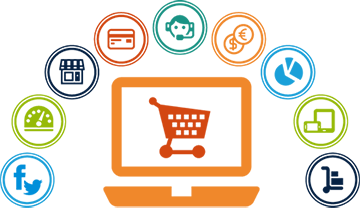 We use following platforms for our E-commerce solutions:
Magento
osCommerce
OpenCart
Zen cart
Prestashop