Email Marketing Service India
E-mail marketing is marketing by sending emails to customers. E-mail marketing can be done using existing customer database or specially harvested lists from other types of marketing channels. E-mail marketing is considered the most profitable means of marketing.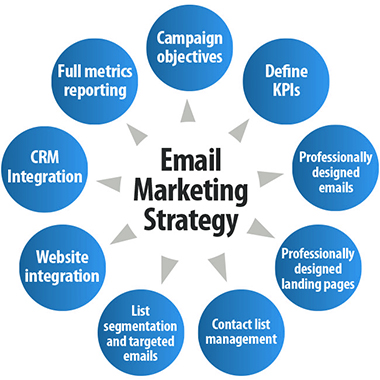 A well planned e-mail marketing strategy helps businesses to reach large audiences, and retain the leads generated through other means of marketing and enhance customer relationship in a very cost effective manner. Email marketing is one of the strongest marketing channels. The conversion rate from e-mail marketing is considered to be best compared to other marketing mediums.
Key benefits of e-mail marketing are:
Increase Brand loyalty -It can be used to customer fan base to your brand to enhance customer loyalty.
Cheaper and faster -E-mail marketing campaigns are relatively cheaper and faster.
Tailored to specific events - Event based, promotional e-mails are very effective.
Targeted specifically - E-mail allows you to target particular segments of consumers.
Easy to create - It is easy to create, track and measure the campaign's effectiveness.
Global reach - Consumers can be targeted globally as well as locally at ease.
Best ROI - Return-on-investment through email marketing is considered to be highest among all the digital marketing medias.
There are more than 4 billion e-mail users worldwide and nearly 91% of consumers check their e-mails everyday. The ROI from e-mail marketing is much more higher than other forms of marketing spent. So naturally e-mail marketing forms the most strategic element in total marketing model.
How to build your email list quickly:
Advertising - Though advertising is very expensive, it helps in building very good e-mail data base.
Social Media - By running Social media marketing campaign on sites like twitter, Facebook, linked in, you can build good e-mail lists
Special Offers - By offering discounts/ special incentives for signing up good e-mail data base can be build.
Public Speaking - Being a guest speaker at seminars, public events and on a regular basis, you can grow your email list by asking audience members to sign up or gather customer data.
Blogging - It's the only low-cost, effective way to grow the e-mail lists if you don't have a massive advertising budget and you're not well connected.
Referrals – By offering special incentives to existing customers to make them sign up their acquaintances and friends.
Digitera Technologies can help develop an effective e-mail campaign that helps you to retain and convert customer leads, enhance your brand value and provide measurable results. We help you convey your message to customers by captivating design and excellent content. Our digital marketing experts can help you form strategy, design e-mails and advice you from time to time to steer the campaign to make most out of it.